Hello reader friends! Today I am thrilled to share such a beautifully written novel, but first want to let you know that it is certainly not for everyone. There are some triggers in this book, as you can surmise based on the book blurb. However, if you are able to, I highly recommend reading this book. It will surprise you in ways you didn't imagine.
About the Book
A powerful story based on true events surrounding Donaldina Cameron and other brave women who fought to help Chinese-American women escape discrimination and slavery in the late 19th century in California.
When Donaldina Cameron arrives at the Occidental Mission Home for Girls in 1895, she intends to teach sewing skills to young Chinese women immigrants, but, within days, she discovers that the job is much more complicated than perfect stitches and even hems. San Francisco has a dark side, one where a powerful underground organization – the criminal tong – brings Chinese young women to America to sell them as slaves. With the help of Chinese interpreters and the Chinatown police squad, Donaldina becomes a tireless social reformer to stop the abominable slave and prostitution trade.
Mei Lien believes she is sailing to the "Gold Mountain" in America to become the wife of a rich Chinese man. Instead she finds herself sold into prostitution – beaten, starved, and forced into an opium addiction. It is only after a narrow escape that she hears of the mission home and dares to think there might be hope for a new life.
AMAZON  |  BARNES AND NOBLE  |   GOODREADS
---
My Thoughts
There is so much history in this novel I don't even know where to begin. The author's attention to detail, and countless hours of research is evident on each and every page. Yes, it was a hard read at times. But all history isn't cheery and roses. It is tough. It is hard to swallow. But at the end of the day, it still provides hope, which is exactly what Moore has done here.
Donaldina, "Dolly",  is a character we can all connect with – a girl who wants to help out, thinking she is brave enough to handle it. A girl with a big heart, trying to make a difference. Sound familiar? Yeah, it does to me. As we often find in life, Donaldina found that the work she was doing wasn't really what she had in mind, and was much harder than she ever thought. But that didn't stop her. In fact, she found herself doing things she never dreamed of, and that in itself was inspirational.
The Paper Daughters of Chinatown is a poignant story that had me reaching for the tissues. The stories of the things these young woman (and girls) went through absolutely broke my heart. The addition of Mei Lien to the storyline was perfect. She provided a POV that I was nervous about reading, but found myself clinging to every scene. Again, it was hard to read, and I know there were women in much worse circumstances than her. It really makes you think about things, about life.
If you are looking for a historically accurate read that will open your eyes and take your breath away, I highly recommend this book. It is full of emotion, sadness, and darkness. But I find that you can always find a little light in a dark world, and that's exactly what Moore does. She brings readers hope.
I received a complimentary copy of this book from NetGalley. I was not required to write a favorable review. All thoughts and opinions are my own.
---
About the Author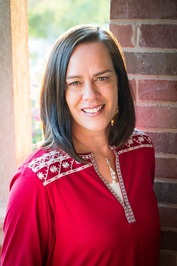 Heather B. Moore is a USA Today bestselling author of more than fifty publications. Her historical novels and thrillers are written under pen name H.B. Moore. She writes women's fiction, romance and inspirational non-fiction under Heather B. Moore. This can all be confusing, so her kids just call her Mom. Heather attended Cairo American College in Egypt, the Anglican School of Jerusalem in Israel, and earned a Bachelor of Science degree from Brigham Young University in Utah. Heather is represented by Dystel, Goderich, and Bourret.
Please join Heather's email list at: HBMoore.com/contact/
Blog: MyWritersLair.blogspot.com
Website: HBMoore.com
Instagram: @authorhbmoore
Twitter: @heatherbmoore
Facebook: Fans of H.B. Moore
---
Do you like reading historically accurate stories, even if they are emotionally hard to read?
---
Post by Contributor Jessica Baker